THE ANGRY VIDEO GAME NERD
The legendary gamer, who swears at and destroys terrible games...
VS.
UBERHAXORNOVA
Minecraft's greatest berserker, who has become the bane of all keyboards.
WHO
IS
DEADLIEST?
AVGN
The Nerd's Arsenal
Short
Fists and Feet
Mid
Powerglove
Long
Super Scope
Special
"Cargo"
Ally: Super Mecha Death Christ
UberHaxorNova
Nova's Arsenal
Short
Diamond Sword
Mid
Flint and Steel
Long
Bow and Arrow
Special
TNT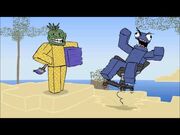 Ally: Sp00n

Voting ends 4/28
Ad blocker interference detected!
Wikia is a free-to-use site that makes money from advertising. We have a modified experience for viewers using ad blockers

Wikia is not accessible if you've made further modifications. Remove the custom ad blocker rule(s) and the page will load as expected.